LOGISTICS
Where is the event?
How to get there?
Where to stay? To eat?
What else to do there?
CLICK HERE
PROGRAM
When will the speakers
be on stage?
What are their topics?
When are the breaks?
CLICK HERE
MISSION
Who are we?
What binds us together?
What do we seek to accomplish?
CLICK HERE
The Red Pill meme is based on the 1999 sci-fi movie,

The Matrix

, in which humans lived in a state of total illusion, not reality, and they must take the red pill to see the world as it really is.
A pointer below the image indicates an embedded video. To see the video, click the pointer or image.
Previews are short video messages from speakers explaining the content of their presentations. 
Speakers, Topics and Previews
(more to be announced)
All returning speakers have new topics!
Mitchell Shaw is a contributing journalist for The New American Magazine: They Know Everything About You and Plan to Use it to Control You.
,

Stanford Graham is a Lawyer & Executive Director for Sanacor International: maker of Cardio Miracle: Language, The Ultimate Weapon of War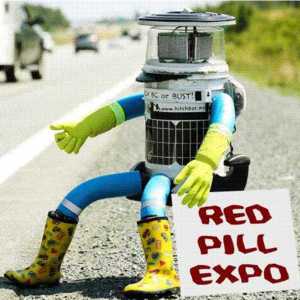 No, this is not a speaker. It's a truth seeker hoping to deprogram himself at the Red Pill Expo so he can be free of dehumanizing control by the Matrix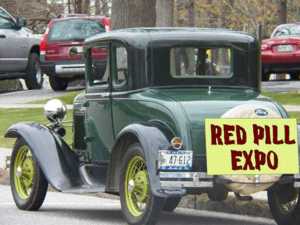 Perhaps it's time to pack up the car and take an old fashioned cross-country trip – just like the good old days. See America from the ground for a change. Drive through the mountains and prairies. Visit the historic places. If not now, when?
If you don't have a bi-plane or blimp, rent a car at the airport to get to your hotel and to do some serious sightseeing. From air or ground, Indiana beckons.
* Exclusive message for this conference delivered by video.
"To oppose corruption in government is the highest obligation of patriotism." – G.E. Griffin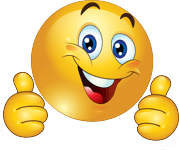 Comments from exit surveys at previous events
It was invigorating to be with so many like-minded people from all over the country. I was able to take some great information home with me.
I learned from every one of the speakers. An amazing source of research and knowledge. I am looking forward to the next Expo.
Awesome speakers, great wealth of information. There was no one I did not find interesting.
Loved being able to meet and talk to the speakers. Loved the speakers.
I liked everything about the Expo. Looking forward to the next one.
Refreshing to network with other people who use their brains for more than a seat cushion!
I am very happy I attended this event. I learned a tremendous amount and will follow up with websites, etc.
I enjoyed all the presentations. I like the fact that there are topics in different areas (medical, political, sovereignty, etc.)
Great information. Come back soon. We will pack the place.
It was a wonderful and needed event to help us find our way. So grateful to have been able to attend. So many smiling faces.
I felt so much heart and love at this event, and it has helped me beyond words. I am ever more hopeful that humanity will prevail during these dark times.
Excellent range of speakers who were obviously experts in their fields and were well prepared.
It was great to be able to meet and network with others and personally meet the speakers and ask questions.
Twenty incredibly informed speakers. The program was perfect.
I was impressed by the authenticity and charisma of the speakers. I enjoyed connecting with like-minded people. There is strength in numbers.
Great vendors, great networking, good meals, friendly staff, easy check-in.
My son and I drove from California. We just loved the event, all the information and how it was presented. Excellent experience.
Well put together. I received more information than I thought I would.
Speakers and vendors were great. My first time attending. Don't think I'll miss any now.
This was my first Red Pill Expo. I'm so grateful I came. Thank you for empowering me to be a better freedom fighter.
This event was a breath of fresh air. I feel human again.
So many wonderful resources! I also loved the fact that various speakers have opposing views. That's refreshing.
Really enjoyed the speakers' passion, knowledge, and uplifting messages while giving heavy information.
I was impressed by the intellectual discussions, the welcoming of alternate views. I felt joined with everyone by a strand of charity and compassion.
I've been to dozens of events, conventions and workshops but I've never been to one so jammed with so much for two days. This was huge.
The only thing I disliked about the Expo is that it ended.
This was our first Red Pill Expo. Can't wait for the next one!
I've been to three Red Pill Expos. It's great that it continues onward.
I am so grateful to be able to attend these conventions. I have been discouraged lately but when I come here, I get a glimpse of optimism and feel inspired.
Can't wait till the next one!!!
The speakers were fabulous. Lots of great information on lots of things I was ignorant about.
I vow to bring people with me to the next one!
It was great to speak directly with the speakers – and that they stayed at the event after speaking.
This event has raised my spirit and enlivened me to take action.